Are you thinking about getting your real estate license? Real Estate Express is one of the leading online real estate schools and has been helping people acquire their real estate licenses for more than 20 years. 
In this Real Estate Express review, we will take a close look at their course offerings, special features, benefits, Real Estate Express pros & cons, alternatives, and some general information about choosing a real estate school to help you make an informed decision. 
So, whether you are just starting out or are a seasoned pro, Real Estate Express has something to offer everyone. So, let's get started.
What To Look For in a Real Estate School
Before we get into the Real Estate Express review, it is essential to know what you want from your real estate school. Do you have a strict schedule you need to work around? Do you need a full course load or just some licensing exam prep? 
Below, we will give you some things to look for when choosing a real estate school, so you can make an informed decision and understand the specifics of the Real Estate Express review better. 
Flexibility
Have you ever considered how important flexibility is for your education? Online school is the best option for some people because it offers more flexibility and convenience than traditional schools. For example, if you have a busy schedule or travel frequently, an online school can be a perfect fit for your specific plan. 
Course Options
Think about your favorite restaurant. What do you like about it? Odds are, the food is excellent, but there are other reasons you keep coming back, too. For example, maybe the place is convenient for you, or the staff is friendly and accommodating. 
Whatever the reason, having different options to choose from makes it more likely to find something to your liking. The same goes for real estate school. Having a variety of course options means that everyone can find something perfect for them. 
Affordability
For anyone looking to get into the real estate business, affordability is an essential factor to consider when choosing a school. 
There are plenty of schools out there that can offer you a quality education, but if you're not able to swing the tuition, it will not do you much good. That is why finding a school that fits your budget is such a vital part of the decision-making process. 
Real Estate Express Overview
Real Estate Express has you covered with 100% online education that fits into your life for all of your real estate education needs. Plus, with various program packages available, the platform has several options to fit any budget and learning needs. And when you are ready to start your career, the Career Hub and Career Expo opportunities will give you the information you need to make the most of your future. 
In addition, Real Estate Express provides continuing education and license upgrade opportunities down the road and is an accredited online institution. With pre-licensing programs available in 40 states and counting, Real Estate Express is a perfect choice for anyone looking to start a new career in real estate.
Let's take a look at some of Real Estate Express's pros & cons:
Pros:
Offers flexibility with scheduling as a 100% online education platform.
Provides various program packages depending on your budget and career goals. 
Career Hub and Career Expo opportunities give students the information to make the most out of their future careers.
Offers continuing education and license upgrade opportunities.
Pre-licensing programs are available in 40 states and counting.
The modern online platform is comprehensive and easy to use.
Cons:
Pre-licensing programs and access are not available in every state where pre-licensing programs are offered.
Some states are not eligible for the money-back guarantee.
Text-based courseload may not be ideal for more interactive or visual learners.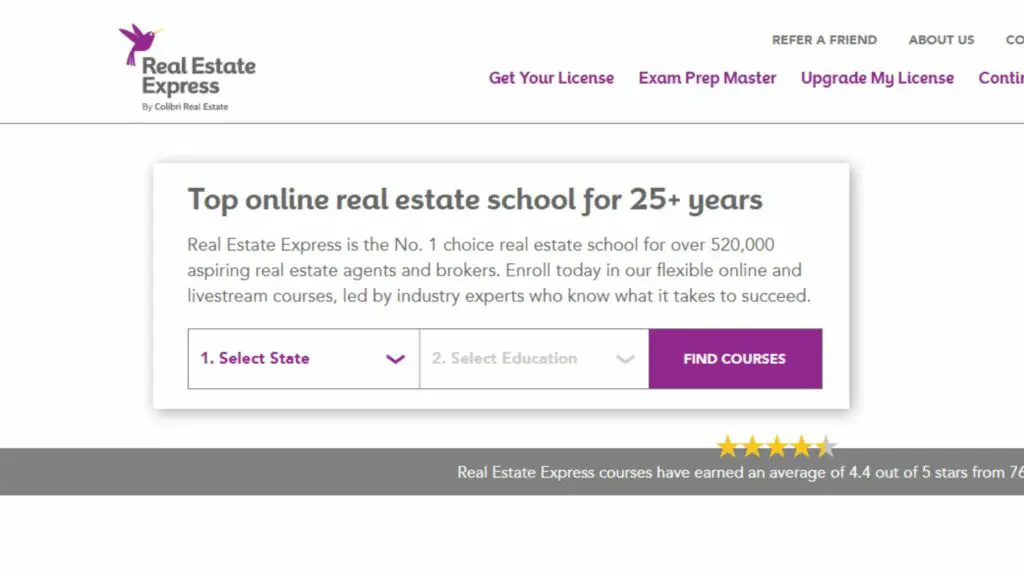 Real Estate Express Benefits
As a Real Estate Express customer, you'll enjoy numerous benefits, including a 100% online platform, continuing education, and many pre-licensing education options, to name a few. 
Its services are designed to save you time and money while providing the guidance and support you need to succeed in your real estate career. Here are some of the benefits you can expect when choosing Real Estate Express.
Continuing Education
You're a real estate professional, and you know that continuing education is essential for keeping your license up-to-date. But where do you find the time to take all those courses? Thanks to Real Estate Express Continuing Education, now you can take all the courses you need from the comfort of your own home, at your own pace. 
In addition, Real Estate Express provides multiple learning channels, so you can choose the option that works best for you. Choose from popular CE packages, or build one that fits your unique needs.
100% Online
Whether you are juggling work and family or you want to kill some time before your next big commitment (your final exam), Real Estate Express's online course is perfect for those who need flexible learning material. As long as you have internet access at home, students can study anywhere without having the hassle of commuting each day.
Pre-Licensing Education Options
Many people considering a career in real estate wonder how to get their license. Real Estate Express is one option for completing your pre-licensing education requirements and has several different course options to fit your needs, including the basics, exam preparation, exam preparation plus, and ultimate learning.
The Basics
If you are looking for a no-frills, straightforward way to obtain your license for real estate, look no further than the Real Estate Express Basics Program. This program is designed specifically for people who want to get their license without extra expense.
It is packed with all the information and testing you need to get your license. This is also the most inexpensive choice that you can purchase. Therefore, if you're on a tight budget, this is the program for you.
Exam Preparation
If you are serious about nailing your real estate exam, you might want to consider the Real Estate Express Exam Prep. Exam Preparation gives you anything that is included in the basics program with the addition of mock exams, so you know what to expect before the actual exam and track your progress.
In addition, the Real Estate Express Exam Preparation package comes with a guarantee of your money back, so if you don't pass the exam, you don't have to pay. 
Exam Preparation Plus
This online course comes with everything you need to succeed from the basics and standard exam preparation course and added access to licensed instructors who can answer any of your questions, including state-specific questions. 
This course is especially beneficial to those that want to engage with a real real estate agent or need more help grasping the course lessons. 
Ultimate Learning
This comprehensive Ultimate Learning package includes everything in Real Estate Express' Exam Preparation Plus program, plus a CE Plus membership and printed textbooks. 
With one year of access to McKissock's huge library of real estate continuing education courses, you will have everything in your hands to ace your exams and keep your skills sharp. 
Pass or Don't Pay and Satisfaction Guarantee
Don't let the fear of failing hold you back from your real estate dreams. There is no risk in trying with Real Estate Express Pass or Don't Pay guarantee. If you don't pass your exam, simply send in your state's failure notice, and Real Estate Express will refund your purchase price. 
Real Estate Express also offers a money-back satisfaction guarantee. So, if you are not completely satisfied or regret your purchase, you can email or call Real Estate Express to request your money back. 
State Availability
Real Estate Express is a pre-licensing education center that offers courses for those who want to get their license in 40 out of the 50 states, which is an incredible feat for an online education platform. Plus, Real Estate Express is continually working to add more states to that list. 
Career Hub
No matter where you are in your real estate journey, Real Estate Express Career Hub is here to help. With informative blog articles about topics like broker salaries, tips, news, guides, marketing, and success stories, you will gain valuable insights into how to start or improve your real estate career. 
In addition to the Career Hub, Real Estate Express has a link to a Career Expo page. There, you can find and attend local career expos. These expos allow new and existing students to network with recruiting brokers, learn about the real estate market in your area, and make connections to launch your future real estate career. 
Plus, you can sign up for the newsletter to get new tips and information emailed directly to you.
Exam Prep Master
Real Estate Review offers high-quality, convenient, and reliable exam practice and prep to help you feel confident and prepared on the day of your test. With its Exam Prep Master program, the exam prep courses, study guides, and prep tests are tailored to give you a comprehensive understanding of what to expect on the big day. 
Plus, if you don't pass on the first try, Real Estate Express will refund your money.
With Real Estate Express' modern platform and tech-savvy features, you'll have all the tools you need to succeed on your way to a real estate license. 
The website dashboard lets you track your progress and set goals as you progress through the training, while the student forum provides a supportive community for discussing what you've learned or just some common questions. Plus, the courses are easy to use and comprehensive.
Accreditation 
With an established track record for online real estate schools, Real Estate Express is among the best online education options available. It is accredited by not only IDECC but also ARELLO (Association Of Real Estate License Law Officials), which means it provides top-quality training without any worries about validity. 
Plus, this company has backing from over 200 thousand professionals who have already gone through their courses, so you know your money will be well spent. And it has helped over 350,000 real estate professionals jumpstart their careers and has an average 4.5 rating out of 5 from past students.
Real Estate Express Cons
Now that we have discussed the various Real Estate Express benefits, we will look at some of the cons that you need to be wary of before signing up. Here are a few more things you should know about Real Estate Express.
Text-Based Courseload
Unfortunately, there are no videos or animations in the Real Estate Express curriculum. Therefore, some people might find it boring because they want something interactive like videos, presentations, or discussion boards. However, if you don't mind the lack of interaction and prefer reading and taking notes on your own, you might not mind a text-based only courseload. 
Pass or Don't Pay Exceptions
Unfortunately, if you live in Florida, New Jersey, or Tennessee, Real Estate Express can not guarantee you a refund of your money. This is because these states don't permit guarantees to pass the state real estate license exam.
State Availability for Post-Licensing and Continuing Education
While Real Estate Express has exam prep and pre-licensing courses for 40 states in the U.S., it is not as widely available for post-licensing programs. For instance, only 10 states are applicable for post-licensing, and eight states are known for license upgrades. 
However, you can seek out more options from one of those states from Mckissock, Real Estate Express' parent company.
Real Estate School Alternatives
Real Estate Express is a top-rated online real estate school, but it's not the only option. There are several other schools that offer similar courses and materials. Let's take a look at some of them below. 
Mbition
Mbition has you covered with everything from pre-licensing courses to state and national exam prep. And once you're licensed, Mbition can help you maintain your education requirements with our continuing education offerings. 
In addition, the company offers professional development resources to help you succeed in your new career. Like Real Estate Express, Mbition is also accredited by ARELLO and IDECC. 
Kaplan Real Estate Education
Kaplan Real Estate Education is a great place to start your real estate career with experienced professionals as your instructors who will guide you through every step of the process, from licensing to continuing education. 
Additionally, if you don't want to do everything online or think you'll benefit from some hands-on interaction, Kaplan also offers in-person courses alongside online courses to choose your learning path and get the skills you need to succeed.
Aceable 
Aceable is an online real estate school that makes it easy for you to get your license. With Aceable's engaging and informative lessons, helpful study tools, and convenient online platform, you'll be prepared to ace the real estate exam on the first try. You can also take the real estate license exam 100% online rather than setting up an in-person appointment, which many other real estate schools require. 
And because Aceable's courses are online and self-paced, you can start and stop as needed without worrying about losing your progress.
The CE Shop
With the CE Shop's convenient and interactive course delivery system, you can quickly get all the education you need to start your new career. The courses are straightforward and digestible, so you can focus on learning everything you need to know. 
And with progress bars that tell you how much time you have left in the course, you'll always know just how close you are to becoming a licensed real estate agent.
Final Thoughts
Real Estate Express is a website that offers online courses for real estate agents. The pros of the program are that it's affordable and convenient, with no need to attend live classes. You can access the materials at any time and work on them at your own pace. The course covers all aspects of real estate, from licensing requirements to closing transactions. 
The cons of the program are that you don't have any personal interaction or feedback from an instructor, so it can be challenging to know if you're doing everything correctly. In addition, not all states with pre-licensing program access offer post-licensing courses or a money-back guarantee for exam preparation. 
Overall, Real Estate Express is a good option for people who want to get their real estate license on their schedule at their own pace.