Mbition provides top-rated online real estate agent courses that can prepare students for a career in this field. In addition, virtual learning becomes increasingly more popular as more individuals seek to better their education in their spare time while still working and raising a family. 
This review will dive into extensive detail on Mbition real estate course features, the various pros and cons associated with Mbition, and how Mbition compares to other options in the market.
Overview of Mbition 
If changing your career path may be in your future, finding an option that you can explore outside of your current workload or family responsibilities is an attractive solution. Mbition is one of the many online platforms where individuals can choose to complete various real estate and home inspection courses.
Its self-paced virtual platform can benefit some individuals who want to work through coursework as quickly or slowly as they need. However, anyone who prefers to follow along with live instruction scenarios, such as Zoom meetings or webinars, may struggle with this format. 
They do offer real-time student assistance, which can be helpful for individuals looking for quick answers to a problem with their coursework. 
Alternatively, Mbition is not only for those starting in the real estate industry. They also provide continuing education courses, so individuals stay up-to-date in their knowledge to ensure their success in real estate. 
Operating for over 30 years, Mbition aims to provide reputable real estate education, training, and resources for various individuals in the industry. They primarily focus on real estate agents, brokers, home appraisers, and inspectors.
The courses you find through Mbition are available across all 50 states in the U.S. However, the pre-licensing training for new real estate agents is only accessible in 22 states. In addition, course costs differ in various regions, so potential participants should check their area for final pricing. 
Mbition Review Pros & Cons 
Here is a quick breakdown of some significant pros and cons we found with Mbition and its services.
Pros 
The online, self-paced format works well for many individuals
Their content is accessible on any device, making it easy to complete anywhere at any time
Their courses are affordable, with occasional coupon codes and discounts 
The classes and methods are certified by IDECC (International Distance Education Certification Center) and ARELLO (Association of Real Estate License Law Officials)
The training is suitable to meet various state requirements 
Cons 
They do not offer live web training or instruction
Available courses and education vary from state to state
Although it is self-directed learning, there is a 6-month time limit for completion, with an option to extend further for an additional cost
Pre-licensing training for real estate agents is only available in 22 states
Mbition Offerings 
For a more detailed look at everything Mbition provides, we examine their available courses and what each entails. Although their course offerings do vary from state to state, typically, you will find these options available: 
Real Estate Education – New License 
Real Estate Exam Prep 
Real Estate Post-Licensing Education 
Real Estate Continuing Education 
Real Estate Education – Upgrade License 
Home Inspection Education – New License 
Home Inspection Exam Prep 
Home Inspection Education – Certifications 
Home Inspection Continuing Education 
Professional Development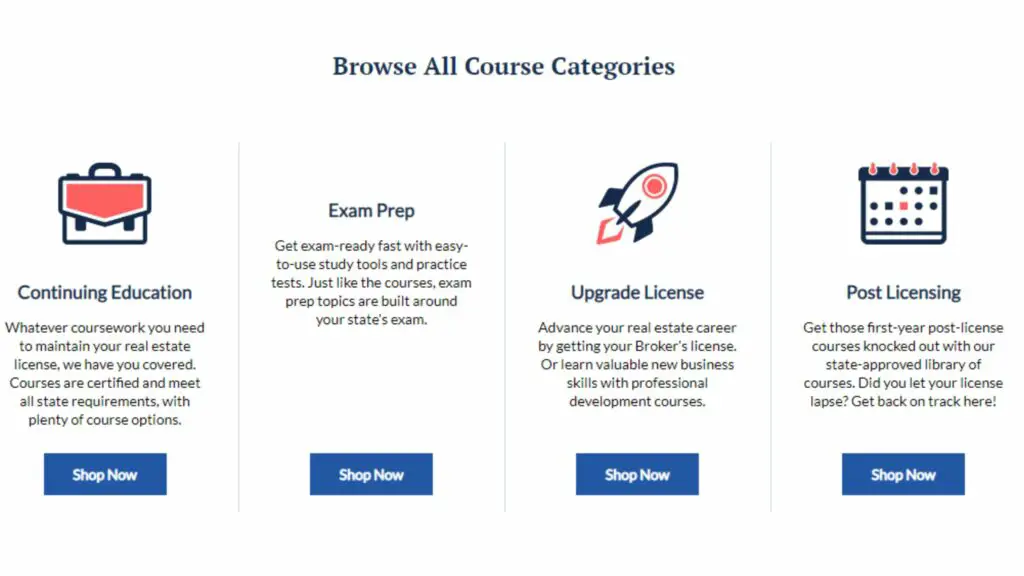 Mbition makes it simple to obtain your real estate license on your timeline. They offer interactive lessons with real-world scenarios to help prepare you for a new career. In addition, their engaging content complies with ARELLO standards to ensure that your education is recognized in the market once you complete the course. 
Mbition helps guide you on the state requirements for licensing in your area. Understanding the specific guidelines will ensure that you prepare adequately for a career in the real estate field. 
Preparing for state exams can be challenging, especially if you have been out of school for a while. The Real Estate Exam Prep course from Mbition helps get you ready to take and pass your state licensing test on the first attempt. 
Mbition includes comprehensive study guides, personalized study plans, eight practice tests, and 1,600 practice questions to prepare you for the next step in your real estate career. You can purchase the Exam Prep course individually or as part of a Master Exam Prep Package that also includes a MathMaster course and a Real Estate Exam Prep Toolkit.
Once you obtain your real estate license, some states require additional courses to ensure your education is current and relevant to your region. Mbition makes it simple to browse your current location and offers the necessary instruction you may need to move forward in your new career.  
Mbition offers additional courses that are relevant to holding a real estate license. From economics, finance, marketing, and more, their post-licensing educational training helps ensure your success as you build your career. 
Mbition knows how important it is to keep your education and training current. Therefore, they provide individual courses and comprehensive continuing educational packages of multiple selections to suit your needs better. This way, you can work with your current budget and available time for the best results. 
After obtaining your new license, you can indulge in courses such as agency law, fair housing, finance, and more, so you have the knowledge and training necessary in your state. They also help you prepare when it comes time to renew your license, so you do not have any lapses. 
Becoming a licensed real estate agent is not the end of your career growth. Mbition helps you continue to grow in the market by providing additional courses to upgrade your current license. The versatility of upgrading at your own pace makes this option an excellent choice for many individuals. 
You can complete a property valuation course or learn about brokerage and become a licensed real estate broker. However, if you want to take your career to the next level, upgrading your current license may be your best move. 
The demand for licensed home inspectors is growing, and Mbition wants to help you on your journey to a new career. After completing their American Home Inspectors Training (AHIT), as a licensed home inspector, you will be educated to accurately assess and report significant home components' conditions, generate reports, and supply necessary recommendations. 
Mbition covers the 14 critical elements of a comprehensive home inspection, preparing you for success in your new career. Their courses are recognized nationwide by certified governing bodies, including ASHI (American Society of Home Inspectors),  CREIA (California Real Estate Inspection Association),  InterNACHI (International Association of Certified Home Inspectors), and more. 
Preparing for the Home Inspectors Exam can be daunting if you do not adequately prepare. Mbition helps make this process of obtaining your new license less stressful. Their extensive resources include an exam prep book, practice tests, a study guide, flashcards, and even an exam prep app. 
Mbition ensures that you have the tools necessary to prepare for the NHIE (National Home Inspectors Exam) and the entire process to complete it successfully. 
Continuous education and training are invaluable in a market such as home inspections. In addition, regulatory requirements can change within different locations, so it is critical that you stay up to date on current certifications. 
Your current state may require you to obtain additional certifications so you can operate a business as a licensed home inspector. Mbition makes it simple to check your state requirements and see what is necessary so you can begin your new career. 
Because there is no national standard for home inspections across the U.S., you may need to update your current licensing to continue your career if you relocate. Mbition ensures that individuals prepare with the training and education they need to operate successfully in their location. 
The AHIT courses offered through Mbition allow for 6- or 12-month access, giving you ample opportunity to complete any necessary continuing education at your own pace. 
Mbition is not only for certifications and licensing courses. They also offer several professional development options to help you advance your business. From creating videos to marketing and measuring your key business elements, their additional options can help build your career for the better. 
Learn how to manage your finances better, improve office productivity, analyze market data, and prepare better marketing materials for your clients. There is no end to how you can advance your skills once you obtain your license. 
An In-Depth Look at Mbition 
Deciding on a virtual platform to help advance your career or change industries entirely can make individuals uneasy. However, knowing that you are working with a credible organization and your money is well-spent on courses that will help guide you in the future is vital. So here, we dive a little deeper into the people and instructors at Mbition. 
The Instructors 
Mbition states on its website that its instructors possess over 100 years of combined experience in their field of expertise. Unfortunately, they only list four instructors on their website after further examination. Although, each profile details each individual's background experience, accreditations, and specific title. 
Course Pricing and Packages 
Each state will carry its own licensing requirements for real estate agents, brokers, and home inspectors. As a result, determining a price can get tricky, so you must dive deeper into your location specifics for a more tangible amount. 
However, Mbition does offer multiple packages for its training courses to help make your education process easier. Both the real estate and home inspector streams will provide a selection for potential students. 
Silver Package 
Gold Package 
Platinum Package
Of course, the Silver Package is the low-end choice and contains only a few introductory courses to get you started on your journey into a new career. It does not come with all the extra tools to help you prepare for your upcoming exam, and they do not offer a Pass the First Time Guarantee. 
The Gold Package is a mid-level option that builds on the Silver Package by providing additional study tools, exam prep, and a Pass the First Time Guarantee. It is slightly more expensive but still falls within a reasonably affordable option for many individuals. 
The Platinum Package is the highest-level choice of the Mbition courses. Depending on the stream you choose, additional items in this package may include flashcards, an accredited textbook, and more exam prep tools to help you be successful the first time writing your exam. 
Refund Policy 
Mbition has a strict refund policy that allows for a full refund within the first seven days, as long as they receive a written request and you have not used the course materials. Individuals requesting a refund after the seven days are up may be eligible if the course material is not used and could receive a refund, minus a 15% cancellation fee. 
What Others Are Saying About Mbition
Naturally, any business operating long-term as Mbition has for the past 30 years will have some complaints. But unfortunately, the price of doing business is that you cannot make everyone happy, and there will be a small percentage of individuals who do not care for your services. 
When analyzing Mbition, we needed to take all reviews into account and determine how this places their business overall. After deeper examination, we found that they have an A-grade rating on the BBB (Better Business Bureau), scoring 96.99 out of 100. 
They show only 19 closed complaints over the past three years, which is significantly low considering how many states they service and individuals they train online every day. Many of these complaints deal with obtaining refunds, extending timelines for completion, and some customer service issues. 
Overall, Mbition states that they have helped over 750,000 individuals obtain licensing and education in the real estate market to further their careers. But, of course, some individuals will never file a complaint even though they are not satisfied with the service or products. 
However, the low number of issues that we found online compared to the number of individuals that Mbition states it has educated and trained presents a minuscule percentage. 
Mbition Compared to Other Competitor's Services 
To get the best idea of how beneficial Mbition is for potential students, we explored some competitors' services. Here is what we found: 
Real-Estate Express offers the real estate pre-licensing in 35 states rather than Mbition's 22
Real-Estate Express has some live-stream class options, although their class options are fewer than Mbition's offerings 
McKissock allows users to access continuing education tools and elements for a low annual fee
McKissock's courses can be dry and full of text that is not as interactive or engaging as Mbition's offerings are 
Aceable Agent allows unlimited tries to pass your licensing exam, whereas Mbition only allows you two tries 
Aceable Agent has a terrific mobile app, and although Mbition is available on any device, mobile units make it challenging 
Aceable Agent is not as highly recognized nationwide as Mbition is 
Kaplan Real Estate offers pre-licensing in 26 states, making it slightly more than Mbition
Kaplan Real Estate programs are incredibly higher priced than Mbition or other competitors 
Kaplan allows for in-person, virtual, or hybrid class options 
RealEstateU is exceptionally affordable but is only available in a small selection of states 
RealEstateU offers an audio delivery method 
RealEstateU provides a 30-day money-back guarantee 
Overall, Mbition provides its users with a comprehensive way to obtain their real estate licensing training at an affordable rate. While some competitors may have cheaper rates or offer more advantages, looking at the big picture, Mbition has an excellent combination of the key elements necessary for a professional online training program. 
The Takeaway 
After looking at all that Mbition has to offer in the real estate and home inspection field, It seems apparent that their courses are recognized nationally through some governing agencies. This accreditation can be beneficial for someone looking to start a new career with the proper certifications and licensing. 
However, their course offerings are limited, depending on the state where the individual resides and wants to obtain work. While some states accept the licensing and certifications from Mbition, other locations may not have access to the courses individuals require to get their real estate license. This restriction can make it tough for some people if residing in one of these areas. 
Mbition's courses are affordable and flexible enough to suit any individual's budget and time requirements. Although, they do restrict how soon you need to complete the courses or risk paying extra for an extension. 
If you live in an area where you have access to all of Mbition's course offerings and can complete the work within the timeframe, it can be a beneficial choice when looking at working through a virtual platform for advancing your career.