If you're looking for online real estate courses, you have probably stumbled across The CE Shop. They offer pre-licensing, exam prep, post-licensing, and continuing education courses for real estate agents and brokers. With many choices out there for online real estate courses, choosing a school can be difficult. Read on to find out more about The CE Shop and why it might be the school for you. 
The CE Shop Overview
Accredited by the Association of Real Estate License Law Officials (ARELLO), The CE Shop is a well-known online continuing education school in the mortgage and real estate industries. While it started with a focus on continuing education courses, they now offer a wide array of pre-licensing courses for real estate sales and brokering, post-licensing courses, and exam prep courses. 
The CE Shop's continuing education and exam prep courses are offered in all 50 states, while their pre-licensing courses for sales are available in 40 states. For students who are licensed in multiple states, they offer convenient ways to gain additional certificates for each state.
The CE Shop Pros & Cons
There are many different pros and cons to The CE Shop's online courses. Here's a full breakdown:
Pros
The CE Shop has been successfully providing students with online continuing education courses since 2005, so they've developed an easy-to-access and broad course offering. Here is what they do best:
Wide Range of Courses
The CE Shop has a remarkably wide range of courses that they offer students. With courses in pre-licensing, exam prep, post-licensing, and continuing education, they offer it all. 
You can take courses in their core curriculum, which covers the essentials, and choose one of their electives, offered on interesting topics like fair housing practices with assistance animals, real estate technology tools and trends, and social media for real estate agents to keep you at the top of your game. 
High National Pass Rate
If you are a numbers person, The CE Shop has some seriously impressive ones for you. Nationally, 90% of their students pass their licensing exam with 75% of their students passing on their first attempt.
On a state-by-state basis, the numbers are even more impressive when compared to the state's average pass rate. For example, in Florida, 88% of The CE Shop's students pass their exam, while the state average is a 37% pass rate. 
Assists with Licensing
The CE Shop provides all of the steps and information you need to obtain your real estate or broker's license in one easy-to-find location. They also offer two convenient ways to recover additional certificates if you are licensed in multiple states. Finally, they will report to your state about course completion if the state requires it. 
Easy to Reach Customer Service
The CE Shop's website has a 24/7 online chat feature, which makes getting in touch and asking a question very easy and quick. They also have email and phone numbers set up to assist you with course content, course registration, and everything else. Their FAQ page is also very robust and will be able to answer a lot of your questions without having to speak to anyone. 
Cons
While there are many pros to The CE Shop courses, there are some cons that can take away from your experience depending on what is important to you.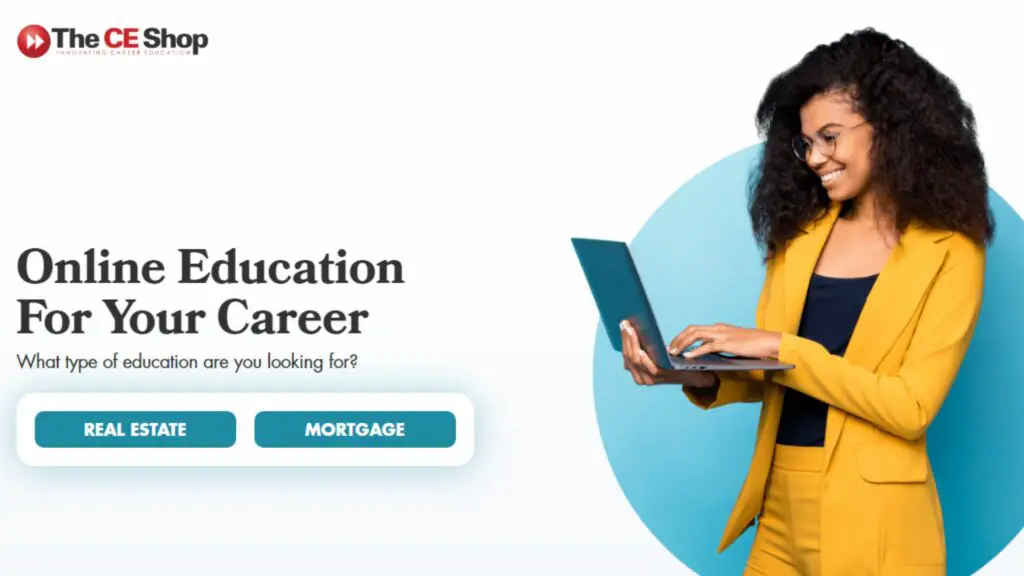 Certain Courses Not Available in Every State
While The CE Shop offers continuing education courses in all 50 states and Washington D.C., they do not offer their pre-licensing real estate sales courses in 10 states including New Jersey, Maine, Alaska, and Wyoming. Their post-licensing courses are offered in only 25 states, although this aligns with what the states require with post-licensing education. 
No Live or In-Person Courses
The CE Shop offers all on-demand, online courses. If you are looking for a live or in-person course, The CE Shop is not the school for you. If you have trouble managing your time or are looking for the networking opportunities of an in-person class, their on-demand classes might not fit your needs. 
Their on-demand style offerings do work well for people working full-time jobs, as the courses could be easily completed at night or on weekends. 
No Career Services
While The CE Shop does offer paid courses in real estate business ownership, there are no career services offered to students once they have passed their licensing exam. This is especially important for students looking to take pre-licensing courses. 
If you're completely new to the real estate industry and looking for help making connections, The CE Shop might not be your best option. Between no in-person or live classes and a lack of career services, it is up to you to make the most of your education. 
Web Only Courses
As of publishing, there is no mobile app for The CE Shop, which limits some users' ability to use the app anywhere. The website is mobile-friendly, so students are still able to complete courses on tablets and phones. However, with an app, it would be much more accessible on the go. 
Available Courses at The CE Shop
As we've mentioned, The CE Shop has a truly impressive range of courses offered. No matter what stage of the process you're in, The CE Shop offers courses. They have pre-licensing, exam proper, post-licensing, and continuing education courses. 
In addition to pre-lessening and exam prep courses for real estate agents, they also offer them for people looking to become real estate brokers.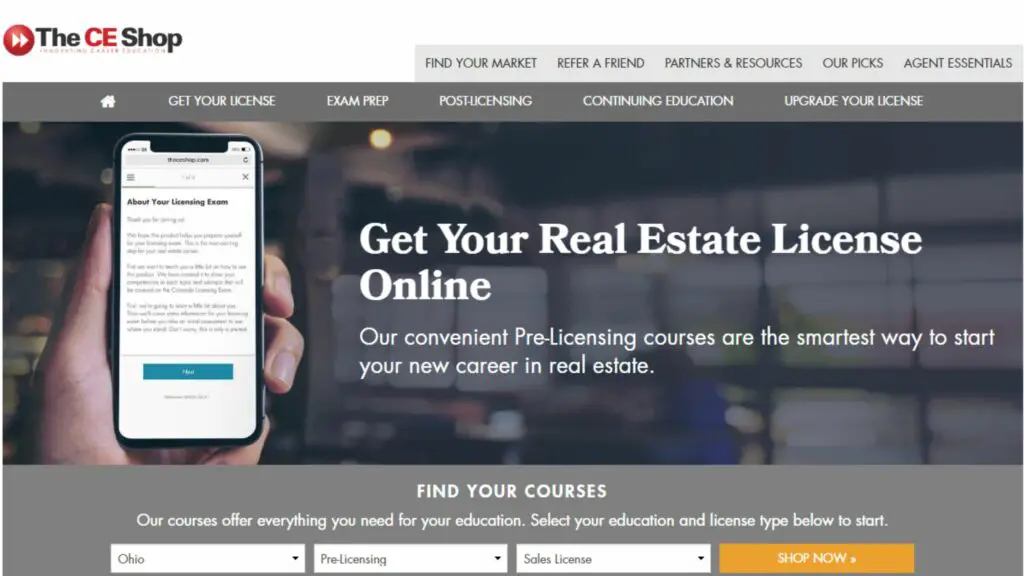 Pre-licensing
The CE Shop's pre-licensing courses are offered in all 40 states and Washington D.C., excluding Alaska, Idaho, Maine, Montana, Nebraska, New Hampshire, New Jersey, South Dakota, West Virginia, and Wyoming. Their courses are state-specific according to the states' requirements for real estate agents. 
Because each state has a different set of requirements for coursework hours, there are different prices for every state. The CE Shop bundles packages of courses, so you can buy their pre-licensing course and exam prep separately, or bundle them together for a discount. Some bundles include every course for your state if your state requires post-licensing courses.
Exam Prep
The CE Shop's exam prep is an interactive and cohesive review of the pre-licensing courses with practice questions. First, you'll be assessed, so you can see what you need to spend the most time studying. Then, it provides a review based on your needs with a focus on real estate math and terms. You can take an unlimited amount of practice tests that give you real-time feedback, so your studying is almost efficient.
Like their pre-licensing courses, their exam prep courses vary by state, so the cost and content are dependent on your state. 
Most of the time, students will bundle their exam prep and pre-licensing courses, but you can also purchase the exam prep on its own if needed.
Post-Licensing
Some states require post-licensing courses after you have gotten your license, so The CE Shop also offers those courses for applicable states. Only 25 states require them, so make sure to read up on what your state requires. 
Post-licensing courses are typically bundled with pre-licensing and exam preparation courses, so all of your real estate education is streamlined and in one place. 
Continuing Education
The CE Shop has a plethora of continuing education courses to choose from once you have gotten your real estate license. Depending on your state, there is a certain number of continuing education coursework hours you must complete to renew your license. 
The CE Shop's online and on-demand class schedule is very convenient for continuing education courses because you will not have to schedule around a set time for your course. Instead, you can take them at your leisure. 
They offer unique and exciting courses in topic areas like fair housing, mortgage fraud, and social media for real estate agents. These courses can help you become a better real estate agent and grow your business even more. 
If you are licensed in multiple states, The CE Shop will bundle your continuing education courses for free, so you can make the most of them for all of the states you practice in. Even if you only sell real estate in one state, you can't easily buy individual continuing education courses or bundle them together based on your needs. 
Cost
The cost of courses at The CE Shop varies by state and type of course. 
Their continuing education courses cost as low as $9/course. This is one of the most competitive rates in the industry, especially with how high-quality the courses are. 
The cost of their pre-licensing courses depends on the state and how you bundle them with exam prep and post-licensing courses. 
For example, in Arizona, which requires 90 hours of coursework to obtain your real estate license, the standard package costs $464.25 and includes exam prep and a pass guarantee. Their premium package is $543.75 and includes business-building courses. 
Meanwhile, in Florida, which requires only 60 hours of coursework for a real estate license, their course-only package is $96.75 but does not include exam prep. For the courses, exam prep, business building courses, and 45 hours of post-licensing coursework, it's $224.25. 
As you can see, costs vary widely based upon a lot of different factors, so knowing what you want out of the courses can help you decide which package is right for you. 
Other Considerations
With any educational opportunity, real estate or otherwise, it's important to consider a variety of aspects of the schools you're considering beyond just the cost and courses available. Things like industry reputation, quality of instructors, student reviews, and career services are extremely important to your experience with a school. 
Industry Reputation
In the real estate industry, The CE Shop has a good reputation. It's known for its high-quality online courses. It's also ARELLO-certified, which means that it has met the strict and important criteria of the Association of Real Estate License Law Officials. This will stand out to anybody in the real estate industry as ARELLO certification carries a lot of weight. 
Pass Guarantee
The CE Shop offers Pass Guarantee in some states for their pre-licensing students. In states like Arizona, all of their pre-licensing courses come with a guarantee that you will pass the licensing exam on your first try or The CE Shop will reimburse you for the cost of the first licensing exam. 
This is not available for every state, but it is a unique feature of The CE Shop and helps to ease the worries of their students who can take advantage of it. 
Instructors
One of the hidden gems of The CE Shop's offerings is its long list of high-quality instructors teaching in their areas of expertise. 
Many real estate schools rely on instructors that are just real estate agents. With The CE Shop, instead of being taught by real estate agents who have no teaching experience, you'll have instructors who have backgrounds in real estate and teaching. This means your courses will be written with a clear curriculum and taught by someone who knows how to instruct complex material. 
Their instructors have long lists of accolades, including the NISOD Excellence Award and the Accredited Buyers Representative Designation from The National Association of REALTORS®. Their instructors also own their real estate schools, consulting groups, and agencies. 
Student Reviews
If you want first-hand reports of what it's like to take The CE Shop's courses, look no further than their testimonials. For student satisfaction, technical & customer support, course delivery, and course content, their students have rated them as 4.5/5 stars. 
Their student reviews reflect their high national pass rate with students sharing how they passed the national and state exams on the first try with the help of The CE Shop. A lot of the students' reviews talk about how easy the platform is to use, how convenient the on-demand scheduling is, and how easy it is to get into touch with customer service if there is an issue. 
Many of the continuing education course students talk about how much they normally loathe having to complete the required coursework, but that their courses with The CE Shop were much more enjoyable and informative. 
Career Resources 
While there is no official career services component of pre-licensing courses with The CE Shop, their continuing education elective courses do offer some career resources and business and professional development. 
If you are interested in having more of a social media presence as a real estate agent, there are courses offered that will help you maximize your outreach on social media platforms. They also have courses that teach you how to run your own business if you're interested in becoming an independent broker. 
Also, because all of the courses are independent of other students and are not live with professors, there is little opportunity for networking. If you're looking to land a real estate job, it will have to be from external networking. The CE Shop does not have a service that will assist with getting a job in those ways. 
Final Thoughts on The CE Shop
If you're looking for online, self-paced real estate courses, then The CE Shop is a great option. 
Their pre-licensing courses give you everything you need to know to pass your state's real estate licensing exam. Their exam prep is interactive and designed for your areas of improvement with the material. With a Pass Guarantee and high national pass rates, students from The CE Shop have a higher chance of passing their real estate licensing exam on their first try compared to the average test taker. 
Their continuing education courses cover exciting and important topic areas that will help you become a more informed and better real estate agent. Even students who typically dread the continuing education course their state requires them to take enjoy The CE Shop's courses because they are unique and interesting. 
The lack of career services and availability in every state might prohibit some from choosing The CE Shop. If you're looking for a school where you can network with fellow future real estate agents or meet your instructors, The CE Shop does not make that available. 
However, the format of the classes being self-paced and online allows for easy and convenient use. Especially for continuing education course students, it is better for time management to be able to complete the courses according to their schedule, not the instructors' schedule. Also, The CE Shop's focus on getting high-quality instructors means the curriculum and instruction are top-tier. 
Overall, The CE Shop is an excellent online school for people looking to get into real estate with their pre-licensing and exam prep courses, or for veteran real estate agents needing to complete their continuing education course hours for license renewal.