Are you thinking about getting your real estate license? When it comes to online real estate schools, AceableAgent is definitely one of the best out there.
They offer a comprehensive curriculum that covers everything from the basics of real estate law to effective marketing strategies. But with so many real estate schools in existence, how do you know if AceableAgent is worth your time and money?
In this AceableAgent review, we'll take a look at whether or not an online real estate school is for you and get into the finer details of AceableAgent, including the pros and cons and some alternatives for you to compare. 
Is Online Real Estate School for You?
As the real estate industry has evolved, so too has the education required to become a licensed broker. In the past, interested parties would have to attend brick-and-mortar classes in order to earn their credentials. However, with the advent of online education, it is now possible to obtain a real estate license entirely online. But is online real estate school right for you?
There are a few things to consider before making your decision, such as:
Flexibility
Students can choose when they want to do their coursework, which means they can study at a time that works best for them. This also means that you can work around an existing schedule. For instance, if you have a part-time or full-time job but want to work toward your real estate license on the side, you can schedule and take your coursework as you see fit with an online school. 
Affordability
One of the great things about online schools is that they can often be more affordable than traditional brick-and-mortar schools. Because online schools don't have the same overhead costs, they can pass those savings on to their students in the form of lower tuition rates.
In addition, online students often don't have to pay for things like transportation, or course materials, which can further reduce the cost of attendance. As a result, an online school can be a great option for budget-conscious students.
Course Options
When it comes to choosing an online real estate school, course variety is important for a few reasons. For one thing, it gives you the opportunity to learn about different aspects of the industry. From property management to real estate law, you'll be able to explore different aspects of the field and figure out which area interests you the most. 
In addition, a wide range of courses can also help you build a well-rounded skill set that will make you more attractive to potential employers. And finally, having a variety of courses to choose from can simply make the learning process more enjoyable. 
AceableAgent Overview
AceableAgent is a 100% online real estate school that offers courses for agents, brokers, and appraisers. The school is accredited by the Texas Real Estate Commission (TREC) and offers courses that are approved for continuing education in Texas. 
AceableAgent also offers courses that are accepted for continuing education in other states. The school has a variety of course offerings, including pre-license, post-license, and CE courses. While the school has many positive aspects, there are also some potential drawbacks to consider. So, let's take a look at some of the AceableAgent pros & cons below.
Pros:
Offers a flexible learning schedule
Provides fair prices and discounts
Engaging course content
High-quality, industry experts as the instructors
A variety of courses to suit your goals 
Career Center to help you make the most of your real estate career
Cons:
Only available in 12 states
Does not offer in-person course options
Limited customer service help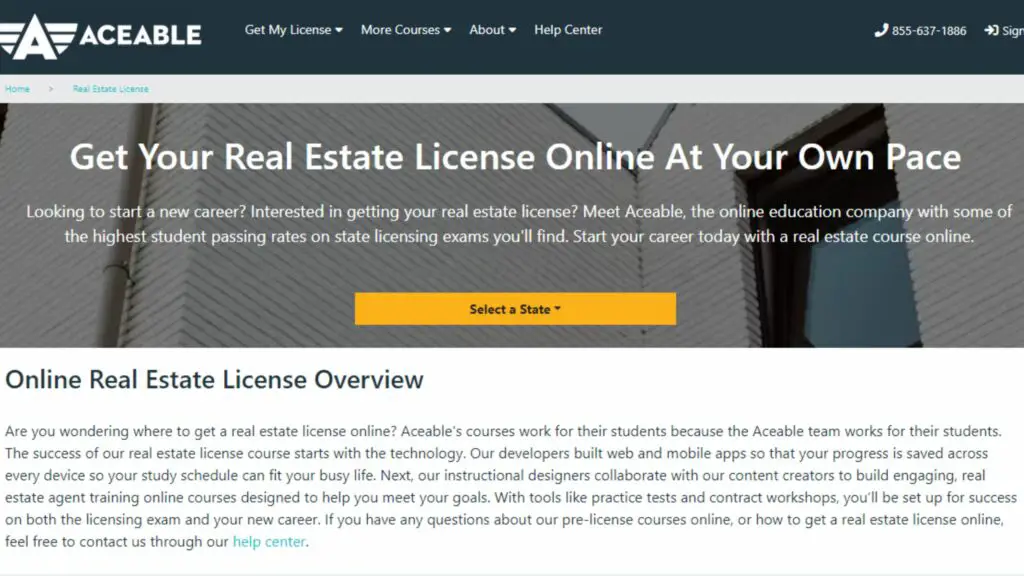 AceableAgent Benefits
Do you like the idea of learning at your own pace, in your spare time, and from the comfort of your home? If so, AceableAgent offers tons of benefits that other real estate schools don't, such as flexible scheduling, affordability, career center access to continuing education, and more.  We'll carry on with this AceableAgent review by taking a look at some of AceableAgent's benefits below.
Flexibility
AceableAgent is a perfect solution for busy people who want to get their real estate license but can't commit to a traditional classroom schedule. Their convenient online courses allow you to study at your own pace and on your own schedule. Whether you're a night owl or an early bird, you can log in and complete lessons whenever it's convenient for you. 
Plus, the AceableAgent mobile app makes it easy to study on the go. So, if you've been putting off getting your license because you don't have time for a brick-and-mortar school, Aceableagent might be the solution for you. 
Affordability
There's no one-size-fits-all answer to the question of how much it costs to get certified as a real estate agent. The cost of certification varies from state to state, and there are a number of different factors that can affect the price. For example, those in Florida who wish to get their real estate license from AceableAgent may pay as little as $79. However, those in Arizona might expect to pay $519. 
However, AceableAgent is committed to providing fair prices for students and offers discounts for those who try its services. In addition, the company offers a money-back guarantee if you're not satisfied with your experience. 
As a result, there's no need to worry about the cost of certification preventing you from becoming a real estate agent. With AceableAgent, you can be sure you're getting the best possible value for your money.
100% Online
Being 100% online for school has its benefits. For one, you're not lugging around a backpack full of books and notebooks every day. You can access your coursework from anywhere, at any time. And if you're struggling to keep up with the work, there are online resources that can help you get back on track. 
Additionally, online courses often offer more flexibility than traditional classes. You can usually choose when to log in and complete your work, which can be helpful if you have a busy schedule. 
Finally, taking classes online can help you build important technical skills that will be useful in your future career. Plus, you can take your final exam online too rather than having to find an in-person location. 
Career Center
AceableAgent has a wealth of information on how to move up in your real estate career. The career center is full of articles, tips, and resources to help you take your career to the next level. 
Whether you're looking for guidance on how to earn more money, get promoted, or start your own real estate business, AceableAgent has the information you need. And because all of the advice is easy to access and searchable, you can find the answers to your questions quickly and easily. 
High-Quality Instructors
When you sign up for AceableAgent, you're getting access to some of the most experienced and knowledgeable instructors in the business. Their master instructors are all industry veterans who have a wealth of knowledge to share with their students. You'll be able to reach out to them via email seven days a week, so you can always get the help and guidance you need.
Course Variety
AceableAgent has a wide variety of courses to choose from. Whether you're interested in getting your real estate license or renewing your broker's license, the company has a course for you. They even offer continuing education courses so you can stay up-to-date on the latest industry trends.
Plus, if you aren't sure which course you want or need to take, you can always reach out to AceableAgent's expert customer service team or check out their blog to inquire more.  
Engaging Video Technology
Rather than focus on text-based coursework, AceableAgent provides high-quality, engaging, and educational videos that keep you informed and improve your retention of the information. 
The videos are produced by experts in the field who know how to deliver the content in an engaging way. In addition, the videos are updated regularly so you always have access to the latest information. 
Money-Back Guarantee
AceableAgent is a leading provider of online real estate education and offers money-back guarantees if you don't pass the final class exam in some states, including California and Texas. 
They believe in their program and are confident that you will find it to be the most comprehensive and convenient way to get your real estate license so much so that they'll readily refund you your money. 
Continuing Education
AceableAgent is a great resource for those looking to complete their continuing education requirements. The classes are all state-approved and created by industry experts, so you can be confident that you're getting the most up-to-date information possible. 
Reputation
Although online schools have gotten a bad rap in the past, Aceable Real Estate School is an exception. With positive student reviews and high exam passage rates, it has a good reputation as an online school. 
Although it isn't accredited, meaning it hasn't been evaluated by an institution such as ARELLO or IDECC to meet certain standards, students do get access to instructors for support and the website is easy to use. 
In addition, the school offers a money-back guarantee if you don't pass the exam, so you can feel confident that you're getting your money's worth. If you're looking for an online real estate school, Aceable is a good option to consider.
AceableAgent Blog
No matter what stage you're at in your real estate career, AceableAgent has the information you need to succeed in their blog. Whether you're scoping out real estate school or have your license and just want to brush up on some real estate trends, you'll find the resources available in AceableAgent's comprehensive blog, covering topics in general real estate, licensing, buying, and selling. 
Plus, you can filter the blog results to topics specific to your state, and the content is updated regularly to keep you up-to-date on what's going on in the real estate community. 
AceableAgent Downsides
With online real estate courses like AceableAgent, you can get the education you need without having to leave your house. But, just like anything else in life, there are downsides to AceableAgent. Here are a few of them.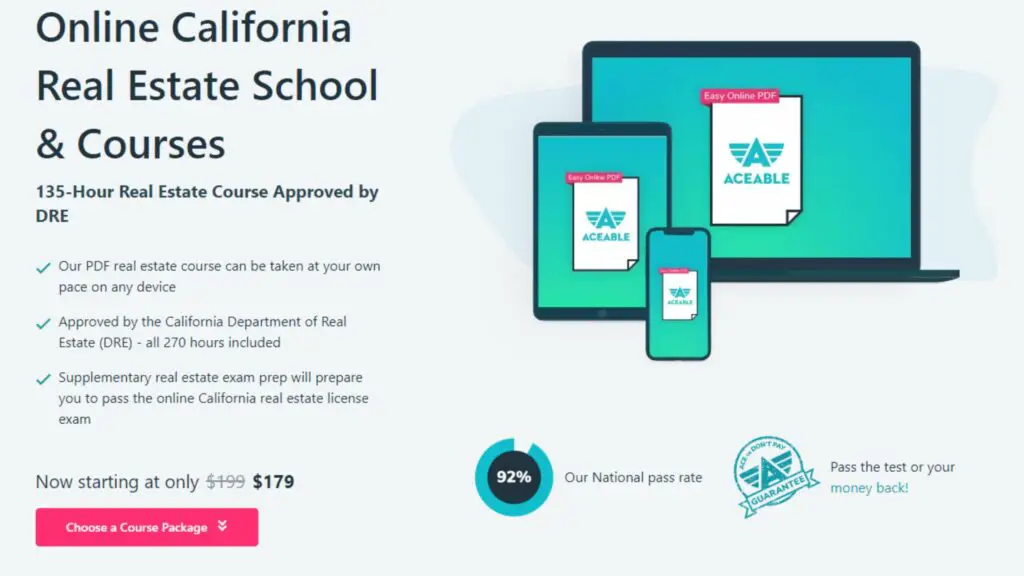 Availability
Unlike some real estate school platforms offer courses and licenses in all fifty states. AceableAgent, on the other hand, is limited to only a handful of states, including:
Georgia
Arizona
California
Colorado
Michigan
Florida
North Carolina
Pennsylvania
New York
Texas
South Carolina
Tennessee
Virginia
Washington
That said, the online education platform adjusts its prices per state and offers more than some of the online real estate competitors that might only cater to specific areas. 
No In-Person Course Option
One downside to AceableAgent's course offering is that they don't have any in-person options available. So if you're someone who learns best by being in a physical classroom and getting that face-to-face interaction with a teacher, this might not be the right school for you.
All of their courses are only offered online, and while you can work at your own pace, some people find it more challenging to stay motivated when they're not in a structured environment. 
Another potential issue is that if you have any questions about the material, you'll have to reach out to customer service or try to find the answer on your own since there's no in-person option for getting help. 
Customer Service Availability
It's important to know that customer service isn't available 24/7 with AceableAgent. Agents are only available during business hours on weekdays, so if you have an urgent question, you'll need to wait until Monday to get a response. 
This can be frustrating if you're used to getting immediate help, but it's important to keep in mind that AceableAgent employees need a few days off too. So, if you have an urgent question over the weekend, it'll have to wait until the next available business day. 
AceableAgent Alternatives
Are you considering enrolling in an online real estate school like AceableAgent? If so, you're not alone. The program has become popular among aspiring real estate agents. However, it's not the only option available. So, in this AceableAgent review, we will give you a few alternatives to compare with AceableAgent. Here are some other high-quality, popular online real estate school institutions. 
Real Estate Express is the leading online real estate school for aspiring real estate agents. Offering convenient, affordable courses, Real Estate Express provides everything you need to get your license and start your career in real estate.
Whether you're just starting or you're an experienced agent looking to renew your license, Real Estate Express has a course for you. With comprehensive, up-to-date content, Real Estate Express is the best way to get started in real estate. Learn at your own pace and on your own schedule with Real Estate Express. 
The CEShop is an online real estate school that offers a variety of courses for those interested in getting their real estate license. The school has been in operation for over 20 years and is accredited by the National Association of Realtors. CEShop offers both pre-license and post-license courses, as well as a variety of continuing education courses. 
The school also offers a mentor program, which pairs students with experienced real estate professionals. Overall, CEShop is a great option for those looking to get their real estate license or further their education in the field.
For those looking to enter the real estate field, Kaplan is one of the most well-known online educational providers. It offers a variety of courses, from live-online to on-demand, that can help students complete their licensing requirements, prepare for exams, and satisfy continuing education requirements. 
In addition, Kaplan offers a variety of courses that are specifically designed for those who are already working in the field and looking to expand their knowledge or earn additional certifications. 
Mbition is an online real estate school that offers courses and resources to help you get your real estate license. The school offers both live and self-paced courses, so you can learn at your own pace. In addition, Mbition offers a variety of resources to help you prepare for your exams and navigate the licensing process. 
And once you're licensed, Mbition can help you find a broker and start your real estate career. Whether you're just starting out or looking to take your career to the next level, Mbition is here to help.
Final Thoughts About AceableAgent
We hope that after reading this AceableAgent review you're able to make an informed decision about taking their courses or choosing one of the alternatives. AceableAgent is an online real estate school that offers students the opportunity to get their real estate license without ever having to step into a classroom. The pros of AceableAgent are convenience, affordability, and accessibility. There are no set class times or locations — you can complete the coursework at your own pace, on your own time. 
The tuition for AceableAgent is also very affordable when compared to other real estate schools. And finally, because AceableAgent is online, there are no geographical restrictions – anyone in the world with internet access can take the courses.