So, you want operational freedom and dream of an office beyond your domain state?
That is the hope of the students who often quiz me: can you get a real estate license in multiple states? The answer is yes. Real estate agents can obtain licenses in multiple states.
Drawing from extensive research and industry experience, we're about to delve into the routes, steps, and best practices for achieving licensing in multiple states. By reading on, you'll gain valuable knowledge that could help you expand your market reach and propel your career forward. Let's explore how to broaden your professional reach across several state lines.
Routes to Multiple Real Estate Licensing
Getting licensed in multiple states starts with taking the first step down the right route. As a self-professed feline lover, I am not even going to dabble on analogies that suggest skinning, you know what.
Instead, I will cut the suspense and tell you that there are two common routes to multiple-state licensing. Let's explore them below:
Reciprocity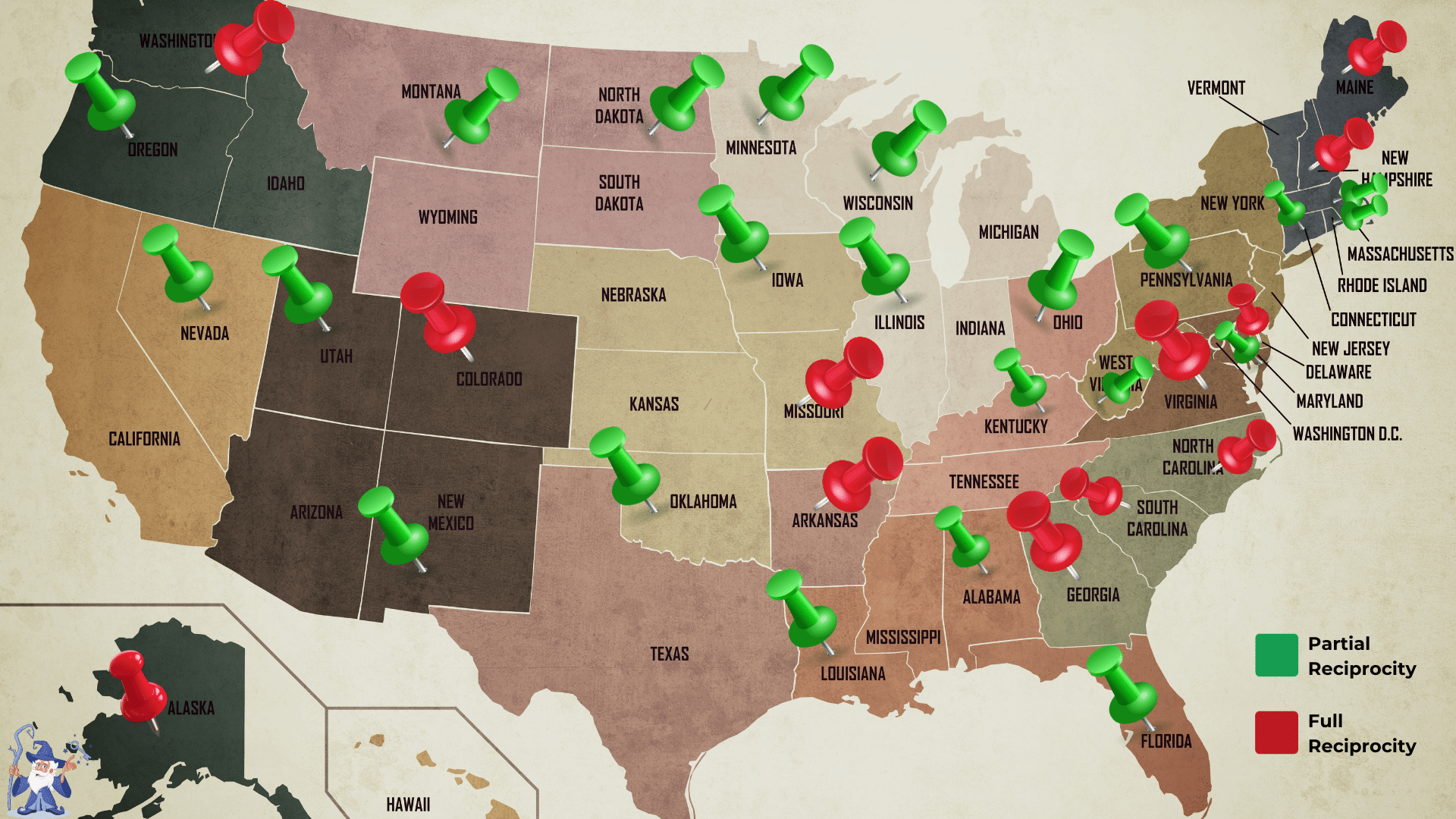 Reciprocity, in its simplest form, refers to a mutual exchange. It's the practice that allows a licensed real estate agent from one state to practice in another without going through the traditional licensing process.

Reciprocity enhances mobility and employment opportunities across borders. It provides flexibility and broadens horizons, enabling agents to expand their client base across borders. It also saves time and resources which would otherwise be spent on acquiring licenses in multiple states.
Interestingly enough, reciprocity is not consistent across all states. Some have full reciprocity, while other states have partial or selective reciprocity.
To better understand the landscape of real estate reciprocity across the United States, review our detailed state-by-state breakdown.
A fitting example here would be Alaska and Connecticut. Alaska has license reciprocity with every state. But Connecticut has partial reciprocity agreements with 12 states, including Alabama, Nebraska, and Rhode Island.
Direct Licensing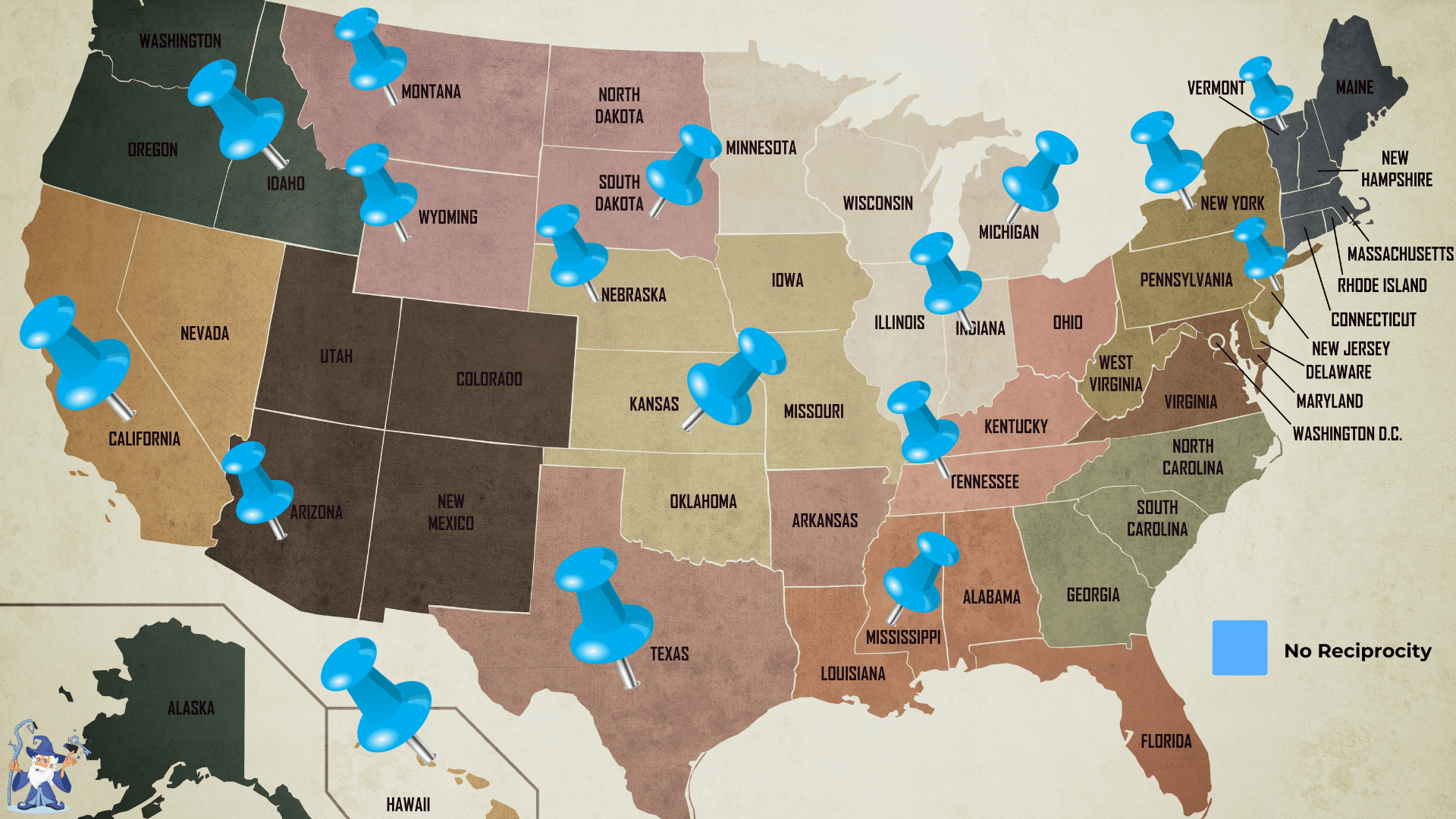 Licensing reciprocity is not a universal concept. In fact, there are several states where no such arrangement exists with any other state. If you're a licensed real estate agent looking to practice in these non-reciprocity states, you'll have to start from scratch, like those who've never held a license before.
The state of California and, recently, New York are members of the non-reciprocity list. Licensed real estate agents looking to practice in California will have to apply for licensing as first-time licensees.

But this doesn't always mean an arduous journey awaits you. While these states may not offer reciprocity outright, some provide alternative routes for already licensed individuals, which can significantly streamline their licensing process.

Take Hawaii as an example. Here, instead of going through the entire licensure process again, licensed applicants can apply for a Pre-licensing Education Equivalency certificate. What this does is allow them to bypass general portions of the exam and only focus on elements specific to Hawaii's real estate laws and regulations.

Similarly, Idaho has a provision called an Exam Waiver. This route is specifically designed for existing licensees seeking practice rights within its boundaries. The waiver allows individuals to skip over national sections of the examination and take only those parts pertaining directly to Idaho's property laws and standards.
Steps to Get a Real Estate License in Multiple States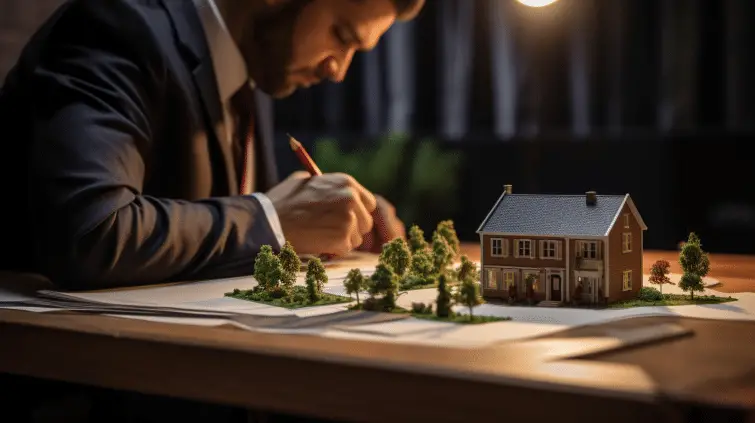 The two licensing routes mean two ways of obtaining a real estate license. Completing licensing as an out-of-state candidate is a whole new ball game. The requirements are different, and the process is slightly more complex.
Step 1: Know Licensing Requirements
Real estate agents hoping to receive licenses in various states must first know the requirements of that particular state. Does the state have license reciprocity with your primary state? You will need to follow the reciprocity requirements of that state.
If you reside in one of the non-reciprocity states like Tennessee or Vermont, you will need to find out the out-of-state licensing requirements.
Step 2: Apply for Licensing:
The second step is to apply for your license. This will require you to contact the real estate commission of the other state where you intend to practice. It's a straightforward process but involves some paperwork and fees that need your attention.

You'll have to submit the required documents as part of this application process. One key document that is often asked of you is your license history. Much like an employment resume, this record provides evidence of your professional journey in real estate.
Ensure that you request your history from your real estate agency and send it to the licensing body in the particular state. You must ensure you are mailing the license directly from your primary state. This is a crucial requirement in most states.
In states where reciprocity is unavailable, ensure you complete all the pre-licensing education and licensing requirements before applying. You may still have to submit specific licensing documents.
For instance, applicants must submit a notarized copy of the Consent to Service of Process form in California.
Step 3: Take Licensing Exam
Depending upon your state's regulations, you may need to take a specific portion of this exam or, sometimes, the entire test. This is particularly true if your state does not have reciprocity agreements with other states.

Let's consider an example for better understanding. Imagine you're planning to operate in Colorado. Since Colorado is a full reciprocity state, it allows you to complete licensing by taking the state-specific portion of the Colorado exam.
But in a non-reciprocity state, you must complete the entire licensing exam. If this is you, employ our real estate exam practice exam to get you closer to your multi-state licensing dream.
Step 4: Partner with a Brokerage
Once you've obtained your license, it's essential to join a local real estate association or align yourself with an established brokerage firm within the new licensing state. This is a requirement in most states.
It will not only offer you the chance to learn from experienced professionals but also provide access to resources that can help you grow in your career.
Working as a Real Estate Agent in Multiple States
Can you get a real estate license in multiple states? Yes, you can! Getting a real estate license in multiple states is not only possible but also beneficial. It opens up opportunities to expand your client base and increase your earnings potential. Whether through reciprocity or direct licensing, the process may involve some paperwork and exams, but the payoff is worth it.

Ready to get started?
Next steps:
Stay updated on the laws and regulations of each state you are licensed in.
Market yourself effectively and build a network of referrals and clients across states.
Use online tools and platforms to manage your transactions and communication.
Understand the costs of maintaining multiple licenses and renewing them regularly.
Keep a real estate license renewal checklist to help you track your progress.
Seek continuing education and professional development opportunities to enhance your skills and knowledge.
What about you? Are there other tips that have worked well in expanding your practice beyond borders? Feel free to share them down below! We'd love to hear about your experiences navigating this exciting aspect of real estate professionalism!